Protocols for On-Site Learning
Updated April 15, 2022
Arriving on Campus
Pre-Screening forms are no longer necessary.
WSA will still be screening students for symptoms and fever upon drop-off

Drop-off for students will be done in front of Upper Baker Hall in the outer driveway ring only.
During drop-off hours, the inner drop-off circle will be closed.
Students need to queue outside of Upper Baker while waiting for screening.
Monitored by an employee, students will be screened using a kiosk that provides touch-free temperature screening or by an employee using a hand-held touch-free temperature reader. The employee will also be observing for signs of symptoms.
Upon screening approval, students will enter Upper Baker, sanitize hands in Baker Hall and then disperse to their designated first-period classroom building.

Exterior doors to the buildings will be locked during the day, allowing for controlled and staggered access to classrooms and minimizing congestion in common areas. Students need to be prepared and dressed to wait outside socially distanced in inclement weather.
The earliest a student may arrive on campus and enter the screening queue is 8:00 am unless otherwise arranged with administration. Students need to stay in their car until then. Do not park in the parking spaces in front of the flagpole near Upper Baker.
Students who drive themselves need to park in a designated student parking spot and then walk around outside to Upper Baker for check-in before entering any other building.
Students arriving later in the day must also check-in at Upper Baker before entering any other building.
The illustration below shows where all students need to be dropped off.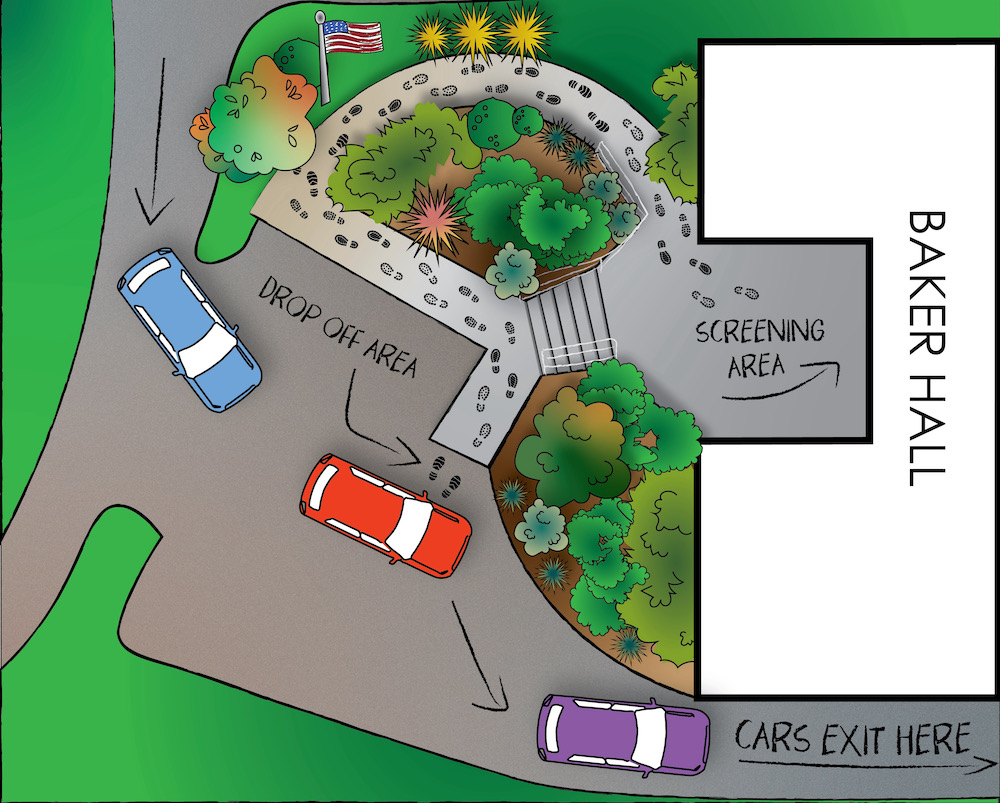 Attendance
A faculty member will check off students as they are screened upon arrival.
WSA is required to keep attendance records for all employees, students, and visitors for the purpose of contract-tracing should it become necessary.
Teachers will also take attendance in FACTS at the start of each class.
If a student is leaving school before the end of the day, they need to sign out at the front desk and get picked up outside of Upper Baker.
Eating on Campus
Students may eat lunch outside the fronts of Parke, Frodel, Ryan, or Baker, in the Quad, or on the Sport Court.
Students may eat lunch inside in the Commons.
Water fountains continue to be for bottle filling only, and students should not drink directly from them.

Individuals who are a close contact of someone with Covid-19, need to eat outside for 10 days from the date of the last close contact.
---
COVID-19 Coordinator
For further questions, please contact Catherine Freeman at cfreeman@westsoundacademy.org
---