Protocols for On-Site Learning
Updated August 10, 2022
Arriving on Campus
Pre-Screening forms are no longer necessary.
Students will still need to check in at Baker Hall before heading to their classes.

Drop-off for students will be done in front of Upper Baker Hall in the outer driveway ring only.
During drop-off hours, the inner drop-off circle will be closed.
To aid student safety, the driving pattern for student drop-off has been reversed. In the morning, all traffic will flow in a clockwise direction around the outer driveway of the school.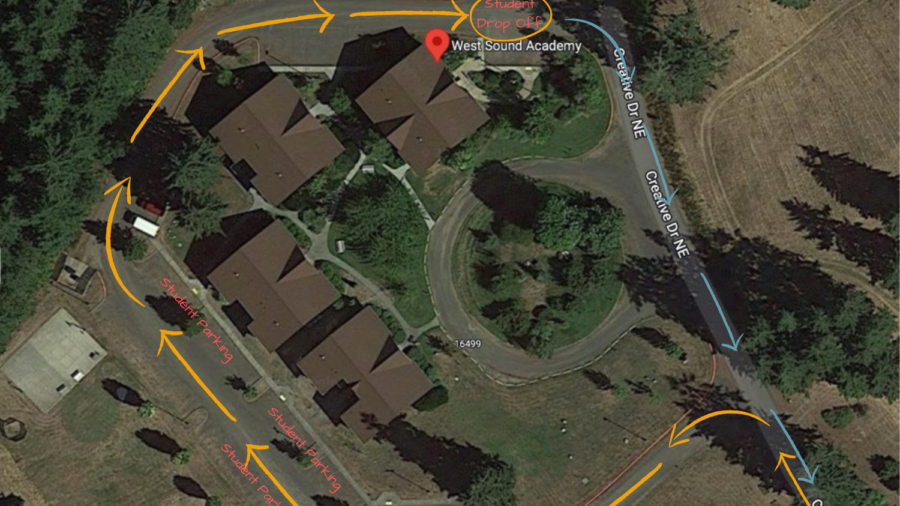 The earliest a student may arrive on campus and enter the screening queue is 8:00 am unless otherwise arranged with administration.
Do not park in the parking spaces in front of the flagpole near Upper Baker.
Students who drive themselves need to park in a designated student parking spot and then walk around outside to Upper Baker for check-in before entering any other building.
Students arriving later in the day must also check in at Upper Baker before entering any other building.
Attendance
A faculty member will check off students as they arrive.
Teachers will also take attendance in FACTS at the start of each class.
If a student is leaving school before the end of the day, they need to sign out at the front desk and get picked up outside of Upper Baker.
Eating on Campus
Students may eat lunch outside the fronts of Parke, Frodel, Ryan, or Baker, in the Quad, or on the Sport Court.
Students may eat lunch inside in the Commons.
Water fountains continue to be for bottle filling only, and students should not drink directly from them.
---
COVID-19 Coordinator
For further questions, please contact Catherine Freeman at cfreeman@westsoundacademy.org
---