How the West Sound Academy Pandemic Theatre was born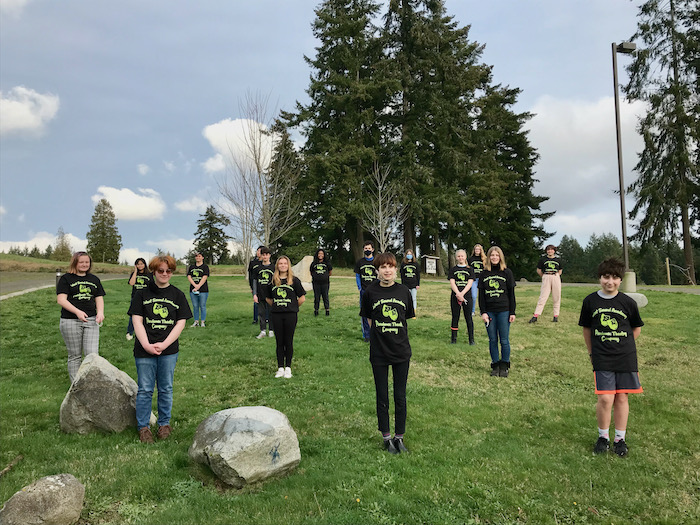 On March 16th of 2020 the COVID-19 Lockdown hit West Sound Academy, classes were moved into the virtual classroom indefinitely.  The after-school theatre program was producing their first musical, Once Upon A Mattress.  We had no choice – the musical was put on hold indefinitely and eventually put on the shelf.  We had no idea what was in store with a pandemic running the world.
In the spring, the theatre program is always in the throes of deciding the next academic year's after school theatre season.  When we were considering whether we had to suspend our entire school theatre program, I said, "Wait, let's think about this.  There has to be a way to make theatre.  We need to think this through and look for a solution, not just throw the baby out with the bathwater."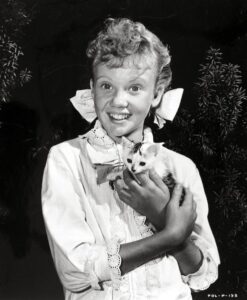 Have you ever heard of a Pollyanna?  According to the Oxford Dictionary, a Pollyanna is defined as "a person who is always cheerful and expects only good things to happen."
I am a self-confessed Pollyanna.  I did not know I was a Pollyanna until I read a letter of recommendation years ago for my first teaching position from my first Theatre Professor, Bill Harvey.  He described me as the only person he knew who could "make a silk purse out of a sow's ear."
 Immediately, my Pollyanna mindset kicked in, and it kicked in full force.  After a week of teaching in the virtual Zoom classroom, my first thoughts were – radio play!  We can produce radio plays in Zoom during the COVID-19 lockdown. I directed The 1940's  Radio Hour years ago with high school students. In the production, you recreate an entire radio studio and put on a Christmas Eve broadcast – with mistakes a live audience can see but the radio audience cannot hear.  When working on that production, we studied the historical context of radio theatre. we had to learn how to create our own sound effects, and no matter what happens, the show must go on because you're live On the Air.  I thought – we can make radio theatre in Zoom! There were so many positives.  Students could explore acting with just their voice without the benefits of gesture and facial expressions. They might have to play two parts – there's an acting challenge, they will study the history of radio theatre and learn how to make their own sound effects.  I thought "there are vintage, royalty-free Radio plays available."  The Pollyanna in me was celebrating!
The first six weeks of the Radio Theatre Club, we got to know each other, we played theatre games in Zoom, we did improv, and we learned how powerful vocal interpretation could be.  Then we started to discuss what script we wanted to produce.  We looked at different scripts online – there is an abundance of vintage radio play scripts on the internet.
But then, yes, there is a but, we hit a stumbling block.  While researching those vintage radio scripts, I discovered that,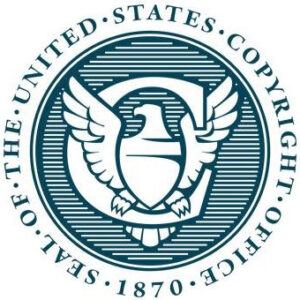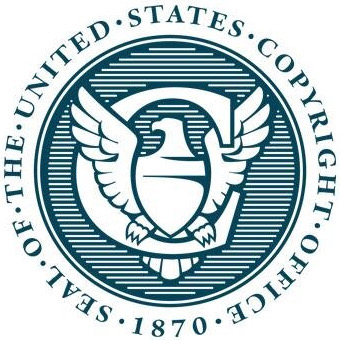 "Radio shows created before January 1, 1978, are protected by the Copyright Act of 1909 rather than the Copyright Act of 1976 because according to case law, any copyright determinations must be made according to the copyright law as it existed before that date. Assuming the old-time radio shows were in the public domain from the Copyright Act of 1909, the update of 1976 could not suddenly place them under copyright because they were already in the public domain, and the status of a public domain work is not allowed to ever be reversed."¹
This stumbling block became a time of learning and exploration for everyone. 
We looked into licensed radio plays yes, they exist.  But again, hit a roadblock.  In this new virtual world we had to figure out how to obtain the streaming rights to the play as well.  In the end, our students rose to the occasion – they wanted to write their own script.  My students had become Pollyanna Juniors.  I never knew the force and energy a Pollyanna attitude and energy holds until my students took on this project.  The learning curve initially was steep for all of us.  We had to have discussions on creative and intellectual property.  We couldn't just take another radio play and rewrite it.  We could allow it to influence us, but we couldn't just change the character names and go with it.  They experimented with skeletons of a script, but we had a bit more work to do.  We read David Lindsay-Abaire's one-act play Can I Change the Words Or Music, published by Dramatists Play Service that explains why you can't change someone else's work.  The play's opening lines are:
TEACHER: Hi, I've licensed a show that I love for my students, but
there are a few things in the script that I wanted to change for our
production. Am I allowed to do that?
DG REP: Nope. Not without permission from the author.
TEACHER: Oh. But I can cut the swears at least, right? Or tone
them down, maybe? Like, turn the damns to darns?
DG REP: Unfortunately, no, not without the author's permission.²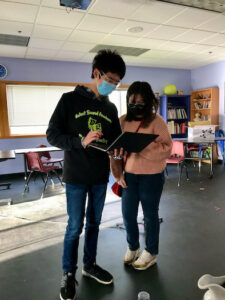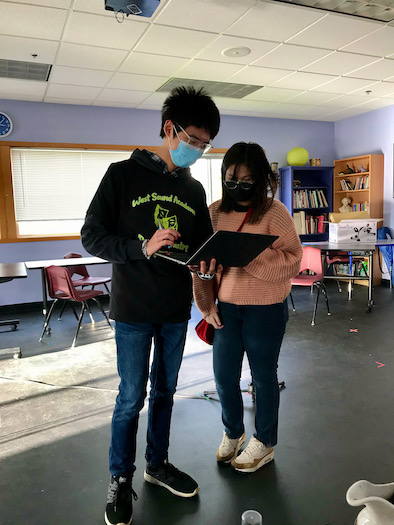 My students were learning the parameters and the freedoms that come with scriptwriting.  They discovered that they could be influenced by a story or play because literature and stories have inspired similar stories for centuries through history.  Remember that group of young artists in the 1950s, Leonard Bernstein, Stephen Sondheim, and Arthur Laurents, who took Shakespeare's Romeo and Juliet and created West Side Story.  The Lion King is not based on Hamlet, but the themes are used in full force. We had already agreed we liked the idea of a Nancy Drew, girl detective concept.  We studied girl sleuth formula fiction courtesy of the University of Maryland.  Did you know there was a formula to Nancy Drew and Brenda Bly fiction?³
Once a week on Wednesdays, I had on average 16-18 kids writing in the Zoom rehearsal room.  For weeks in breakout rooms, they gathered, laughed, wrote, argued, listened, and collaborated.  Then we would all come together and read through the script.  The discussion turned to ideas that the language wasn't quite right, so the students researched 1950's slang and sayings to get the feel of the time period.  After 4 weeks of writing, Emma True: Teen Detective was born.  Now that we had a script and had the characters, which the students knew very well, we began rehearsing and designing the sound effects in earnest.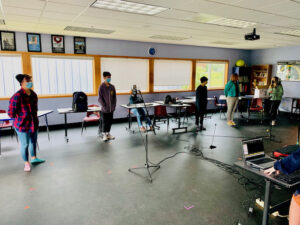 Emma True: Teen Detective and The Mystery at Bayside High School has been in rehearsal in earnest since mid-December.  Every rehearsal, a total of six hours a week, has been virtual.  A week before our scheduled recording date, two students and I met on campus, socially distanced, and recorded sound effects they created.  The next Wednesday, the company members came to my classroom on the WSA campus to record the show live with WSA Music Teacher Paul Burback's support and guidance.  Students wore masks and were socially distanced with orange x's marking the floor around the mics, 6 feet from each other and the mic.  "Hit your mark!" has never been more important in a production.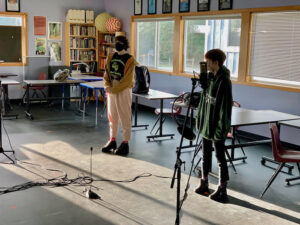 It has been ten months since my first Pollyanna inspiration.  Now, 20 students, each one a junior Pollyanna, and two teachers, will be streaming their original radio play at the end of January in partnership with On the Stage.  The group of students that make up the cast and crew started in the beginning and persevered.  We've had a few students who heard about our adventure and joined us on our journey along the way.  This group of young people is absolutely incredible. This is the youngest collective group of students who have ever produced a play during my West Sound Academy tenure.  They learned how to collaborate – sometimes not everyone's ideas get used, and we have to move on and let it be okay.  They have been inquirers, communicators, and risk-takers.  The self-discipline, the sense of integrity, and the initiative they have shown are tremendous.  This young group of artists has lived up to the West Sound Academy Theatre Program Motto – We may not be professionals but that does not mean we cannot behave and work like professionals.  I am so honored to be a part of the work this young but vibrant group of students has created.  We hope you enjoy the show!
And that is how the West Sound Academy Pandemic Theatre Company was born.
Emma True: Teen Detective broadcasts January 29th, 30th and 31st at 7 PM
For Tickets to Emma True: Teen Detective stream performance use this TICKET LINK
Read the Kitsap Sun article: Pandemic shifts school's theater production from the stage to the radio
---
[1] https://www.oldradioworld.com/copyright.php
[2] https://www.dramatistsguild.com/dontchangethewords
[3] https://www.lib.umd.edu/nancy/girls-literature/girl-sleuth-formula-fiction