West Sound Academy faculty design and carry out a curriculum that inspires inquiry, creativity, accountability, and the application of new learning in real-world situations.
All teachers at West Sound Academy are skilled at meeting students where they are, identifying their individual needs, and encouraging learning and growth. Students enrolling from different programs at any grade level are given the foundational skills they will need in future West Sound courses and life.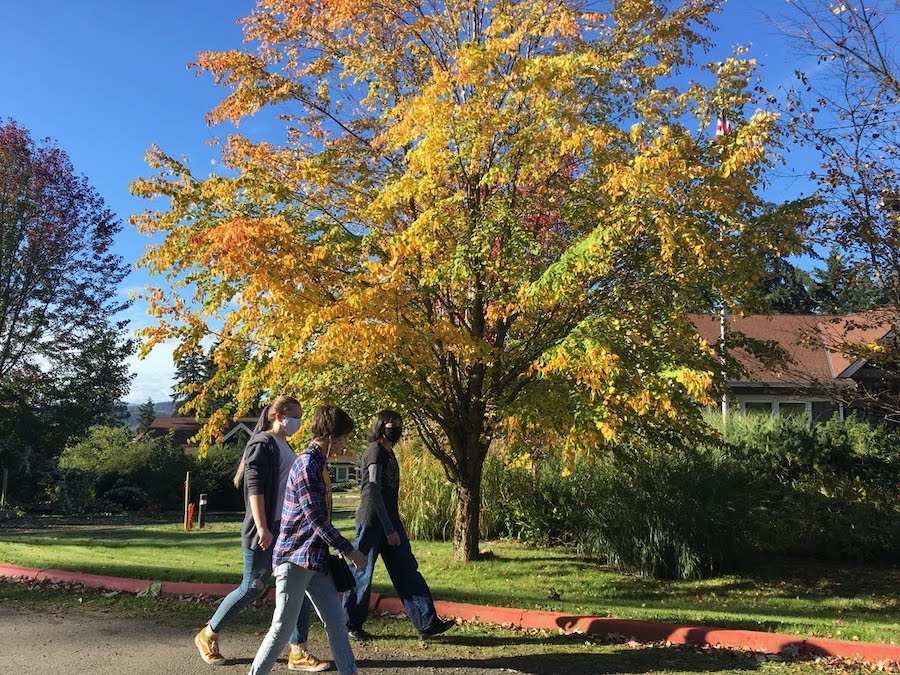 West Sound Academy students work to build problem-solving and study skills through in-depth research, close reading of a variety of texts, and academic writing. Course offerings within each grade level and across the grades are designed to enhance the depth of content and cohesion of the well-rounded college preparatory curriculum available at the school.
The IB Learner Profile consists of ten traits that inspire all school community members to learn to respect themselves, others, and the world around them. West Sound Academy works to design an experience for students that enables them to develop and demonstrate these attributes in all aspects of their lives.
As West Sound Academy Learners, we strive to be:
Inquirers, Knowledgeable, Thinkers, Communicators, Principled, Open-minded, Caring, Risk-takers, Balanced, Reflective.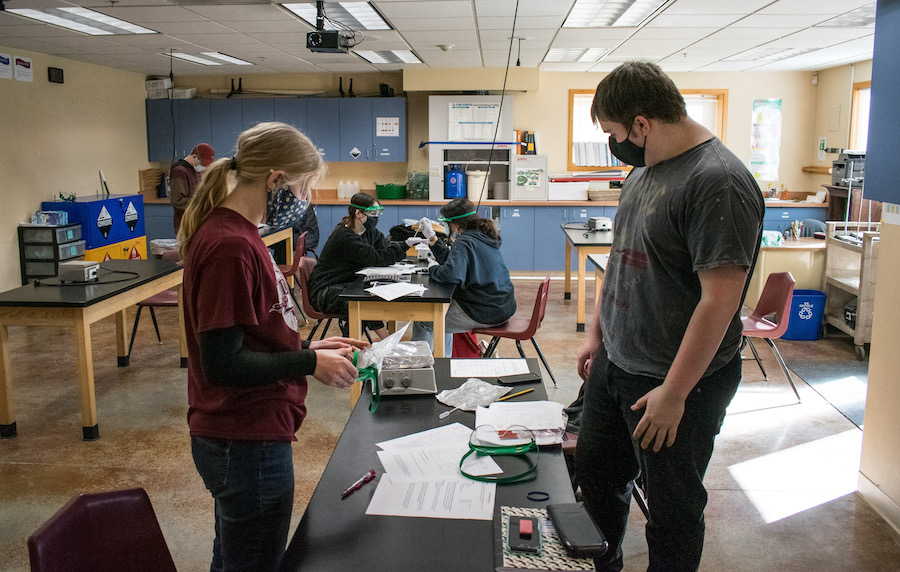 Overview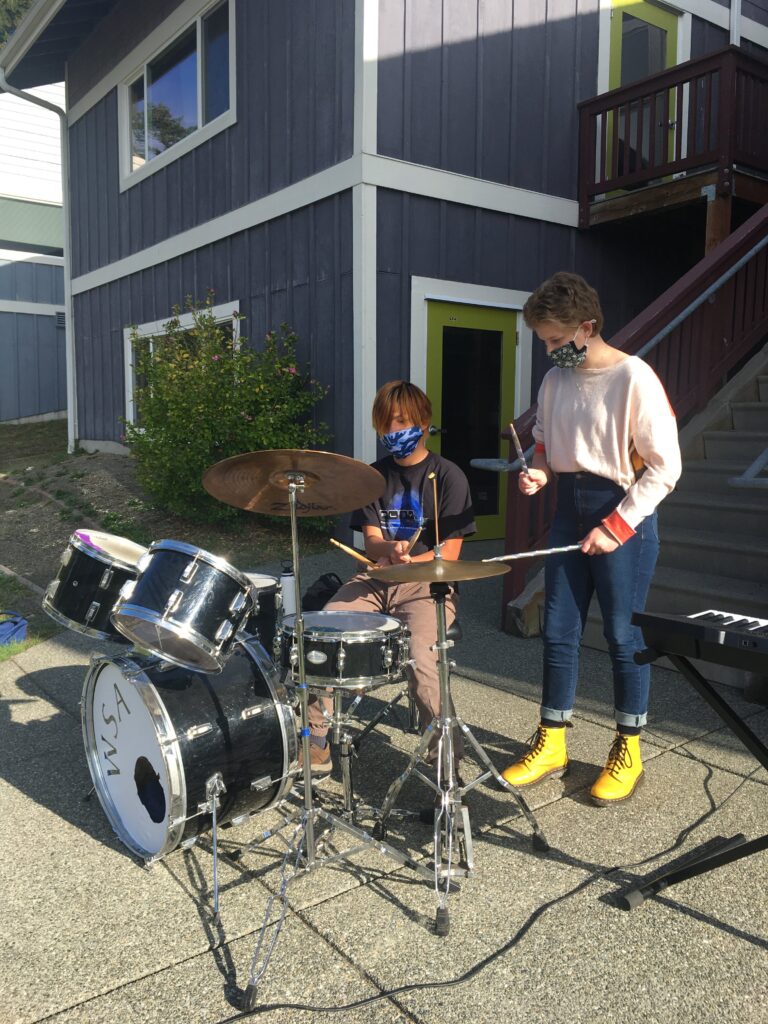 Middle School at West Sound Academy addresses the need for exploration while simultaneously providing a respectful, supportive, and inclusive environment. The Middle School course of study presents an important body of knowledge in a variety of modes of inquiry that foster learning and enhance understanding. The Middle School program aims to educate the whole child by weaving skill building in self-management and social and emotional awareness throughout the curriculum.
Grades 6 and 7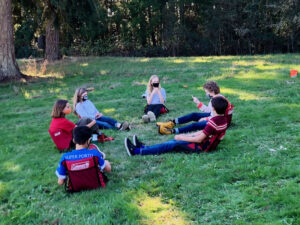 The curriculum in the Middle School is intended to meet the needs of students that arrive with a variety of elementary educational experiences. West Sound Academy's teachers nurture curiosity in 6th and 7th Graders while identifying student strengths and areas for growth.
Students in these grades are encouraged to build autonomy and independence, learning how to problem-solve and self-advocate. They develop tools to use in school and life, both for organization and social growth.
Grade 8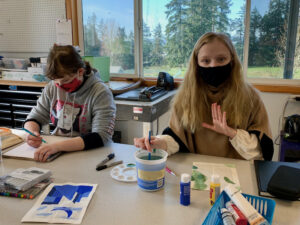 Eighth-grade students continue to develop their self-advocacy skills. They experience leadership opportunities with the Middle School group and have the support of Upper School mentors during multi-age electives and advisory groups. Eighth Graders continue with engaging coursework that lays the foundation for a successful transition to the Upper School. They leave eighth grade prepared to take on the rigor of college-prep coursework and the International Baccalaureate Diploma Program.
The Middle School Curriculum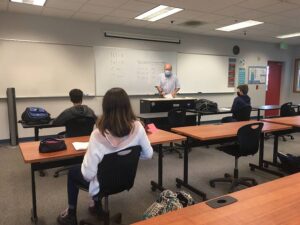 Courses in the Middle School academic program include:
Humanities – English, Washington State History, World History Pre-1400, World History Post-1400
Language Acquisition – Latin I, Introduction to Computer Language and Logic, Introduction to Spanish, Introduction to French
Experimental Sciences – Marine Biology, Earth Science, Integrated Experimental Science
Mathematics – Middle School Math, Pre-Algebra, Algebra
Arts and other Electives – Visual Art, Music, Theatre Studies, Physical Education, Introduction to Technology, Computer-Aided Design and Manufacturing
The Extended Research Project (ERP) requires students to apply academic research and writing skills to explore a topic of their choice within history (6-7th grade) and science (8th grade). The project culminates in school-wide presentation or performance that integrates skills across many subject areas.
The Middle School Partnership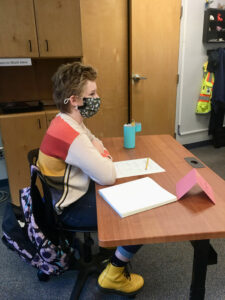 Success in Middle School is based on a partnership between parents, teachers, and students and includes:
• An assigned Advisor to be a primary source of information and support for student and parent
• Consistent communication from teacher to parents through email, conferences, and report cards
• FACTS SIS, a school information system, providing information on homework, lunch orders, report cards, scheduling, and more — all in a single database accessible any time, anywhere via the Web.
• Student school email address
• Opportunities to attend events displaying student work or performances
• A safe environment for students to advocate for themselves with teachers and parents
• Community building and experiential learning activities
Overview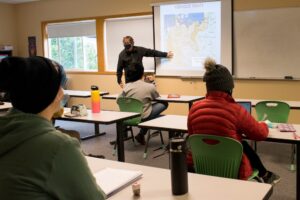 Upper School at West Sound Academy focuses on helping students achieve their goals for life after high school by graduating intellectually curious young adults prepared to contribute responsibly to the world. Students in this college preparatory program participate in engaging discussions and lessons that inspire creativity and critical thinking. Upper School students are encouraged to expand upon their social, emotional, and intellectual growth so that the whole individual is allowed to flourish and thrive. West Sound Academy offers the International Baccalaureate (IB) Diploma Programme coursework in the junior and senior years. All 11th and 12th-grade students take IB courses.
9th and 10th Grades
College Preparatory Courses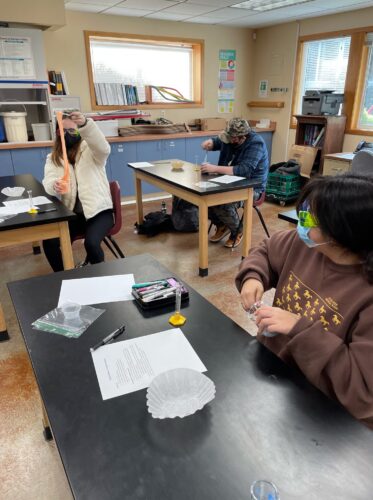 Students in Grades 9-10 have a selection of challenging courses. The curriculum stresses critical and disciplined thinking, effective communication, scientific analysis, and creative problem-solving. Skills introduced and reinforced in the classroom, including critical reading, critical writing, and document analysis and evaluation, will prepare students for the rigors of coursework in the junior and senior years and success in college after their years at West Sound.
English – English Literature
Language Acquisition – Spanish, French or English
History – US History 1840 – 1940; US History post-1940
Experimental Sciences – Physics and Chemistry
Mathematics – Integrated Math 9, Integrated Math 10
Arts/Electives – Theatre, Visual Art, Music, Computer Science, PE
The Extended Research Project (ERP) requires students to apply academic research and writing skills to explore a topic of their choice within history (9th grade) or literature (10th grade). The project culminates in a school-wide presentation or performance that integrates skills across many subject areas.
11th and 12th Grades
WSA Diploma & International Baccalaureate Diploma Programme Courses
Students have the option of completing the full diploma as a Diploma Candidate or participating in the Diploma requirements in some of the courses as Diploma Course Students. Students may also choose not to participate in any of the external assessments of the IB program.

Group 1 — Language and Literature in English or Self-Study in the student's Native Tongue
Group 2 — Second Language: Spanish or French
Group 3 — Individuals and Societies: History
Group 4 — Experimental Sciences: Biology
Group 5 — Mathematics: Applications and Interpretations
Group 6 —Theatre or Computer Science
The IB Diploma curriculum ensures a breadth of experience in languages, social studies, the experimental sciences, mathematics, and the arts. In addition, the program has three core requirements that broaden the educational experience and challenge students to apply their knowledge and understanding:
The Extended Essay – Students engage in independent research through an in-depth study of a self-chosen question relating to a specific International Baccalaureate (IB) subject and complete a 4,000-word paper. The Extended Essay Coordinator guides the candidate through the entire Extended Essay process and assigns each candidate a supervisor from the WSA faculty who provides individual support and guidance.
Theory of Knowledge – Central to this course is an examination of the questions, "What do I mean when I say 'I know,' and why should anyone believe me?" Students examine these questions in the context of the definitions of knowledge itself and through various ways of knowing, including emotion, reason, perception, and language. The course challenges students to critically and thoughtfully examine their personal knowledge and ways of knowing and to learn to listen respectfully, and learn from, their classmates, as well as from a broad spectrum of others.
Creativity, Action, Service (CAS) – Students actively learn from the experience of doing authentic tasks beyond the classroom. These tasks have real consequences from which students can achieve genuine accomplishments and success or failure; each outcome provides a powerful means of learning. Students in all grades participate in CAS activities at varying levels and develop measurable learning outcomes after each endeavor.
Click to download
The Learner's Journey
to see the scaffolding of skills and roles at WSA as a student progresses from Grades 6 through 12
Click to download
The Learning Design
to see the interplay of humanities, the arts, science and technology, math, service and learning, and wellness in the life of a WSA student