Vintage Hitchcock: Live Radio Play RSVP
The performance of Vintage Hitchcock for December 3 is SOLD OUT. Seats are still available for the December 4 performance.
Performances on Friday, December 3 and Saturday, December 4 are for vaccinated viewers only.
POULSBO, WA – West Sound Academy Theatre Company brings the works of Alfred Hitchcock to life in Joe Landry's Vintage Hitchcock: Live Radio Play, directed by Gretchen Nordleaf. Performances will take place on December 2, 3, and 4, 2021 in the WSA Commons. Curtain is at 7 PM for all performances. 
In WSA Theatre's production of "Vintage Hitchcock," Art Deco gild and glamour meet the hurly-burly, hilarious realities of producing a live studio-show. Witness the romance, suspense and thrill of three of Alfred Hitchcock's early films, "The Lodger," "Sabotage" and "The 39 Steps," exploding to life through the magic of on-stage foley sound effects and nostalgia-drenched spectacle in this 1940's style live radio show.
Spies, murder, love and other trademarks of Hitchcock come to life in the style of a radio broadcast, complete with vintage commercials, that recreates a hair-raising train chase, a serial killer's ominous presence and a disastrous explosion through implementation of live sound effects.
Vintage Hitchcock: A Live Radio Play is a unique opportunity for the audience member to experience the thrill of Hitchcock alongside the excitement of seeing behind the scenes of a 'live radio show,'" Nordleaf said. "From live sound effects to actors performing multiple accents and dialects, the cast of Vintage Hitchcock is sure to surprise even seasoned theatre audiences. 'Vintage Hitchcock' requires theatre artists to rethink how storytelling works on stage and WSA Theatre Company is excited to meet that challenge."
The ensemble of "Vintage Hitchcock" is composed of several WSA students including seniors Ezra Osburn and Lars Love, junior Maddie Prasch, sophomores Abi Parks and Arlea Forbes-Prater, freshmen students Joelle Schmidtzinsky, Kieran Merrifield-Peterman, Lucy Schmitt, Lollie Wines, and 8th grader Alex Prasch.
The behind the scenes artists include Genna Johnson as the Student Director for the production and the Director of The Lodger. Our Costume designer is Nascha Martinez. The lighting tech is Andrew Corbo. Sound design and effects by Abi Parks and members of the company. Lena Bowen is the stage manager and Heide Duer is the assistant stage manager.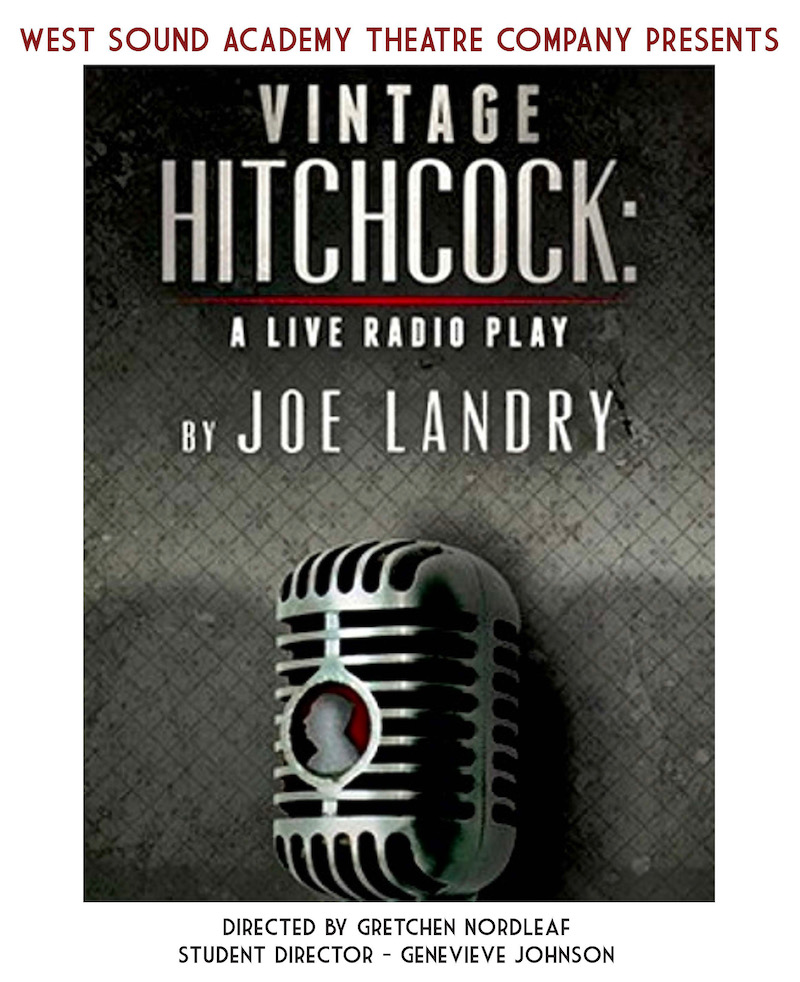 West Sound Academy Theatre Company
ARE SETTING THE STAGE (SAFELY) FOR YOU!
We realize that you are excited, eager and also anxious about returning to the live theatre at West Sound Academy. We have taken steps to welcome you back safely. Enjoy live high school theater and stay safe.
Based on Washington State guidance for performing arts and the limited seating capacity in the Commons, the performances on
Friday, December 3 and Saturday, December 4
will be open to vaccinated viewers only.
The performance on Thursday, December 2 will be open to anyone, but will have significantly reduced capacity. 
For more information contact West Sound Academy at 360-598-5954.