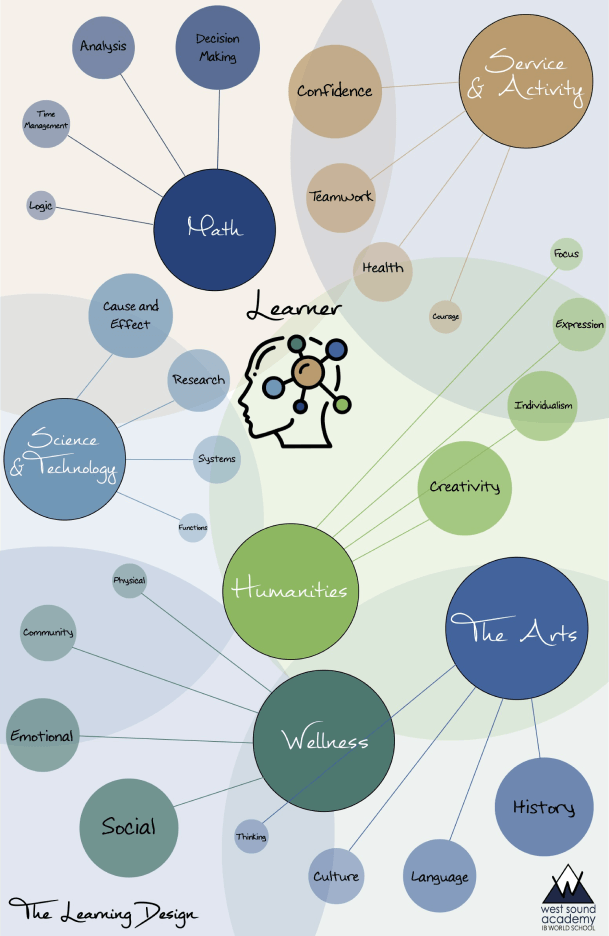 West Sound Academy faculty design and carry out a curriculum that inspires inquiry, creativity, accountability, and the application of new learning in real-world situations
All teachers at West Sound Academy are skilled at meeting students where they are, identifying their individual needs, and encouraging learning and growth. Students enrolling from different programs at any grade level are given the foundational skills they will need in future West Sound courses and life.
West Sound Academy students work to build problem-solving and study skills through in-depth research, close reading of a variety of texts, and academic writing. Course offerings within each grade level and across the grades are designed to enhance the depth of content and cohesion of the well-rounded college preparatory curriculum available at the school.
The IB Learner Profile consists of ten traits that inspire all school community members to learn to respect themselves, others, and the world around them. West Sound Academy works to design an experience for students that enables them to develop and demonstrate these attributes in all aspects of their lives.
As West Sound Academy Learners, we strive to be:
Inquirers, Knowledgeable, Thinkers, Communicators, Principled, Open-minded, Caring, Risk-takers, Balanced, Reflective.