West Sound Theatre Company Presents "The Importance of Being Earnest" in February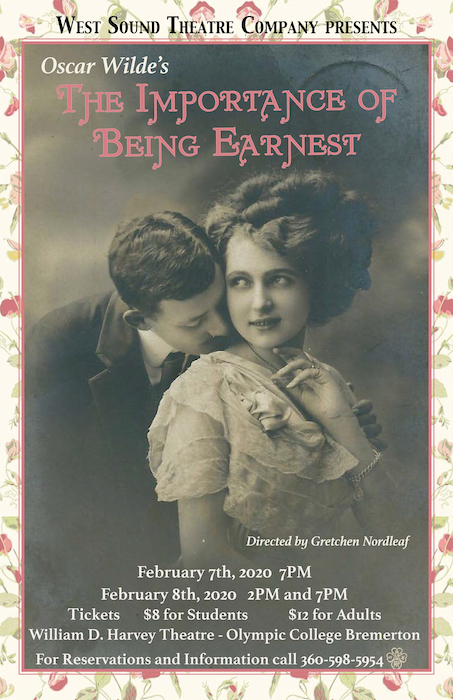 The West Sound Theatre Company (West Sound Academy) will present Oscar Wilde's endlessly entertaining comedy The Importance of Being Earnestjust in time for Valentine's Day!  Gretchen Nordleaf will direct West Sound Academy's handsome production of this timeless world classic—an unmissable opportunity to see what the London Telegraph calls "the most perfect comedy in the English language." The Importance of Being Earnest will run February 7 and 8 at the William D. Harvey Theatre on the Olympic College Bremerton Campus.  Performances will be at 7 p.m. on February 7 and 8 as well as 2 p.m. on February 8. Tickets are $8 for students and $12 for general admission.
Oscar Wilde's wildly entertaining comedy sparkles with dazzling wordplay and hilariously unlikely situations. This "trivial comedy for serious people" features two carefree bachelors, Jack and Algernon, each with a carefully hidden double life. But when Algernon discovers that Jack has been posing as a man named Ernest to escape to the city, he promptly travels to Jack's country estate to pose as the fictional figure himself! Silliness ensues with whimsical ingénues, jealous fiancées, indomitable dowagers, and the most famous handbag in theatre history.
The cast features Boaz Adams '20 (John "Jack" Worthing), Micah Adams '21 (Cecily Cardew), Philip Cox '20 (Algernon Moncrieff), Michael Gao '21 (Lane/Merriman), Esther Gleeman '22 (Hon. Gwendolen Fairfax), Annika Obsequio '21 (Miss Prism), Grace Schmitt '20 (Lady Bracknell), and Corwin Taylor '21 (Rev. Canon Chasuble).
The creative team includes Sara Adams (Set Design/Technical Director), Siri Nelson (Costume Design), Philip S. Rosenberg (Lighting Design), Suresh Kethevath '22 and Donya Alnasharty '22 (Sound Design),  Alice Cowie '21 (Hair and Makeup Design), Abi Parks '24 (Props Design), Donya Alnasharty '22 (Student Director), Momoka Montonaga '23 and Genna Johnson '22 (Production Stage Manager(s).
"This will be the first time West Sound Theatre Company has produced one of the world's classics, and this splendid and hilarious production of The Importance of Being Earnest continues this theatre's legacy of excellence in high school theatre," said Gretchen Nordleaf, Director.  With this production we have gathered an outstanding cast from our Upper School Thespians and we promise a beguiling and wild night of Wilde."
Oscar Wilde (Playwright, 1854–1900) was born in Dublin, Ireland, and attended University of Oxford, where he proved to be a brilliant scholar, winning the Newdigate Prize for his poem "Ravenna." His first collection, Poems, was published in 1881. His only novel, The Picture of Dorian Gray, was published in 1890 and was widely condemned by Victorian critics for its "immoral" content, but it remains one of his most acclaimed works. In the subsequent years, Mr. Wilde had enormous success on stage with his comedies Lady Windermere's Fan (1892), A Woman of No Importance (1893), An Ideal Husband (1895), and The Importance of Being Earnest (1895). His play Salome (1893), written in French, was refused a license in London but, thirteen years later, was adapted by Richard Strauss into a successful opera. The Marquess of Queensberry strongly disapproved of the playwright, and a quarrel ensued that eventually led to Mr. Wilde's imprisonment for homosexuality. He was sentenced to two years hard labor and was released in 1897. He moved to France under the name Sebastian Melmoth and, while there, wrote his famous poem "The Ballad of Reading Gaol." He died in exile in 1900.
West Sound Academy, IB World School, in Poulsbo, Washington, is home to the West Sound Theatre Company.  The West Sound Theatre Company is one of Kitsap County's leading high school Theatre programs and is a member of the International Thespian Society.  The West Sound Theatre Company produces three productions of classic, contemporary, and musical theatre in Olympic College's William D. Harvey Theatre each year, in addition to supporting West Sound Academy's International Baccalaureate Theatre performances which include the Collaborative Theatre Project and the Solo Project performed on campus in our Commons Theatre.  For more information on the IB Theatre program and performances contact Gretchen Nordleaf at 360-598-5954.
LOCATION and PARKING INFORMATION: The William D. Harvey Theatre is located on the Olympic College Campus at 1110 16th Street, Bremerton Washington.