2019 Commencement Speaker Shares Advice from Graduates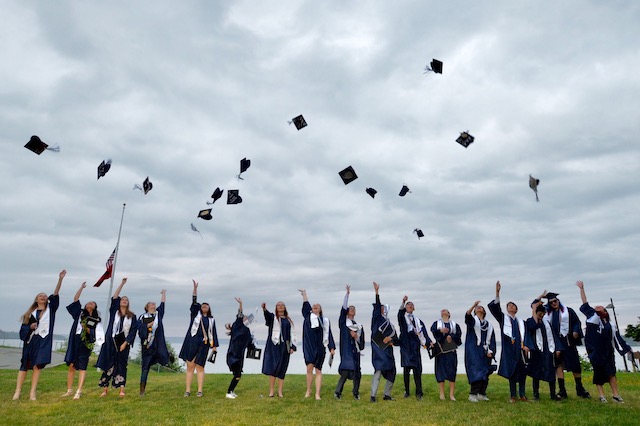 West Sound Academy's Class of 2019 came to the House of Awakened Culture in Suquamish on May 24 for an evening of graduation and celebration - the school's 18th annual commencement. School faculty and staff and many family, friends, and fellow students came to share the evening with the graduates. Head of School Barrie Hillman reminded everyone that the purpose of commencement was to acknowledge the personal achievements of each of the graduates - these seventeen individual journeys coming together for this celebration.
Margaret Johnson, Chair of West Sound Academy's Board of Trustees, then introduced John Boyd, the commencement speaker. Boyd is superintendent of Quincy School District in Quincy, Washington, and is in his twenty-seventh year as an educator, working in a variety of settings. A few weeks before commencement Boyd came to West Sound to meet with members of the Class of 2019 to get to know them, then asked each of them this question, "What advice do you have for me when giving this speech?"
Boyd then shared some of that advice with the commencement audience.
It is easy to look at someone and make assumptions about them. We all have biases that lead us to conclusions about people that may just not be accurate. ...Resist the temptation to stereotype others.
Don't shy away from soliciting feedback and practice being open to receiving it.
The future is unpredictable, and failure is OK. Ultimately, you are more than enough.
Boyd told the graduates "You are at the edge of the unknown, about to go places you've never been, meet people you've never met, and travel on paths that will take you to places you've never imagined. This may seem a little scary and you will also, no doubt, experience hardship, pain and failure at some point along this path. But, it is a beautiful place to be."
The next part of the program was the graduates' opportunity to give their own speech: "The Last Word" - a West Sound tradition. Hillman introduced each graduate with a word and a definition, matching each person with the word the epitomized their character and demeanor. There were a fair amount of tears, and graduates recognized those who had helped them along the way: teachers, parents, and other family and friends. They all had words of encouragement and respect for their fellow graduates. "In addition to being the finish line, this is a victory lap. We did it," said Max Morningstar. "...one thing for me is for certain: it is that every person sitting next to me will leave their mark on the world. It is ordinary people like us who do extraordinary things."
A music ensemble made up of the entire senior class, directed by Paul Burback, performed "Dancin' in the Ruins" by Blue Oyster Cult - the students' last performance as West Sound musicians. Hillman and Johnston then came back to the podium for the highlight of the evening: the presentation of diplomas.
Hillman presented the graduates to the community, then directed them to move the tassels on their mortarboards from the right to the left. These newly-minted WSA alumni marched and danced out to the tune of "Hey Look Ma, I Made It" by Panic! at the Disco, followed by the faculty and guests. Out on the lawn, many cameras and phones captured the moment as the graduates tossed their caps into the air.