West Sound Academy students rise to the challenge of the online classroom.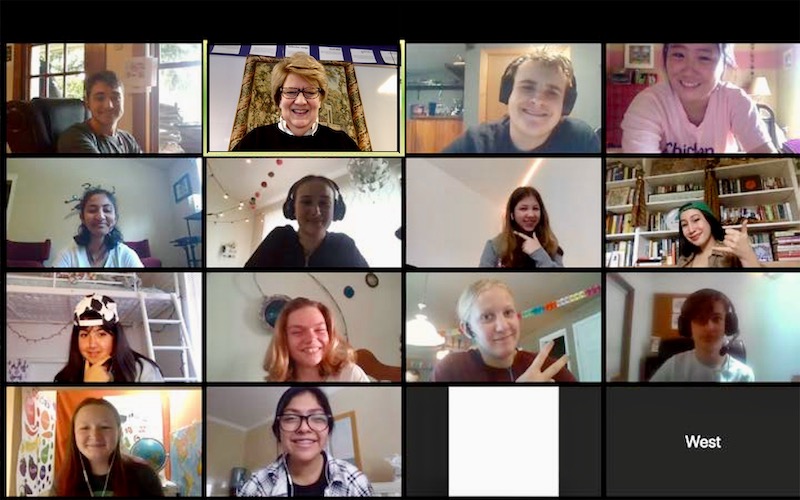 It's 12:30 on a Tuesday afternoon, 6th period, and time for West Sound Academy 9th Grade English class to meet.  The teacher, Gretchen Nordleaf-Nelson, sits at her laptop and admits her students one at a time into her Zoom meeting room, greeting each one as she clicks to let them in.  "Hi, L.C!  Hi, Maddie!  Hi, West!" and the students respond in kind.  Ms. Nordleaf-Nelson marks the attendance chart in the school's online LMS (Learning Management System) then class begins.  This is the new normal for all classes at West Sound Academy (WSA) – for all the teachers and all the 6th through 12th-grade students.
Barrie Hillman, WSA Head of School, and the Board of Trustees had been monitoring news on the 2020 COVID-19 outbreak carefully. On March 11 they decided that the best choice for the safety of our community would be to move to remote learning at home.  The last day of on-campus instruction was Friday, March 13. Teachers and staff had three days of in-service, then began remote learning classes on Thursday, March 19.  The schedule that was adopted has all classes meeting twice a week.  There is no school on Wednesdays so that teachers can plan and students can work on class assignments and have free time for other activities. A few electives were suspended or combined into one period.  Still, the rest of the classes are meeting as scheduled, designed to prepare seniors to graduate and students in other grades to be ready for next school year.
Ms. Nordleaf-Nelson's English students are working on a Multi-Genre Writing Project they had started before the online platform went into effect.  They have risen to the demands of the online classroom by learning to complete their peer editing in Zoom 'breakout rooms'. 'WSA 2.0' has been in session for almost two weeks now, and these students are starting to develop a rhythm and routine for this new kind of school.  The day I remotely 'visited' the class, students took turns sharing their Roses and Thorns (things in their life going well, and not so well.)  Everyone is going through stressful times right now, so Ms. Nordleaf-Nelson allowed everyone to give their Thorns first. The beautiful, positive Roses came at the end.
The Thorns were not surprising: students are missing school, their friends, and being able to leave their house.  Some are having trouble sleeping, and others are worried about stores being out of stock of essential supplies, and all the people that are getting sick and dying.  The Roses were simple and sweet (or sometimes savory):  baking projects at home involving chocolate chips, a mom who gave her son a taco salad he loves, delicious crunchy Cheetos, lots of time to read or practice guitar, talking on the phone for two hours with friends, a cat who decided to be especially friendly, a walk on the beach.
What are the Roses and Thorns as far as their online learning classes?  Classes do have definite start and end times, but Ms. Nordleaf-Nelson notes that everything seems more relaxed and going at a slower pace.  It can be tempting for students to not pay careful attention to making notes of what assignments have been given and when they are due.  Things seem to be "less urgent." Asked what has surprised them about the change to online learning, one student said she hadn't expected it to be so similar to regular school. "You still see everyone in your class (even if it is on a screen), and you do the same things." From another student in the class, "I've been surprised with how well this has all worked."
These students are on their way to becoming experienced remote learning scholars, so they had some suggestions for others who are needing to switch from doing school the usual way to the new remote model.   Their tips:
Find a space in your house where you can be by yourself when you're doing your classes so that you won't get distracted by other things going on in your house.
Wear headphones – it's another way to make it easier to pay attention to what's going on in your class.
Making time for exercise and face-to-face fun with family in the house are important to break up the screen time.
Make sure you get enough sleep. You'll have a harder time doing a good job on your schoolwork if you're tired.
Get up at a specific time every morning. Have a routine.  When you're done with school, take a break, and do something fun to relax.
And what was Ms. Nordleaf-Nelson's Thorn and Rose?  She was worried about a relative on the East coast who she was not able to contact for a few days.  Her Rose?  Hearing the students be grateful for very simple things: "a nice day outside", "a great peanut-butter-and-jelly sandwich". "If we were in normal classes, would they have mentioned those? I'm learning what happens when we all slow down."