WSA Team Wins 2nd Place at WA State Knowledge Bowl XXXVII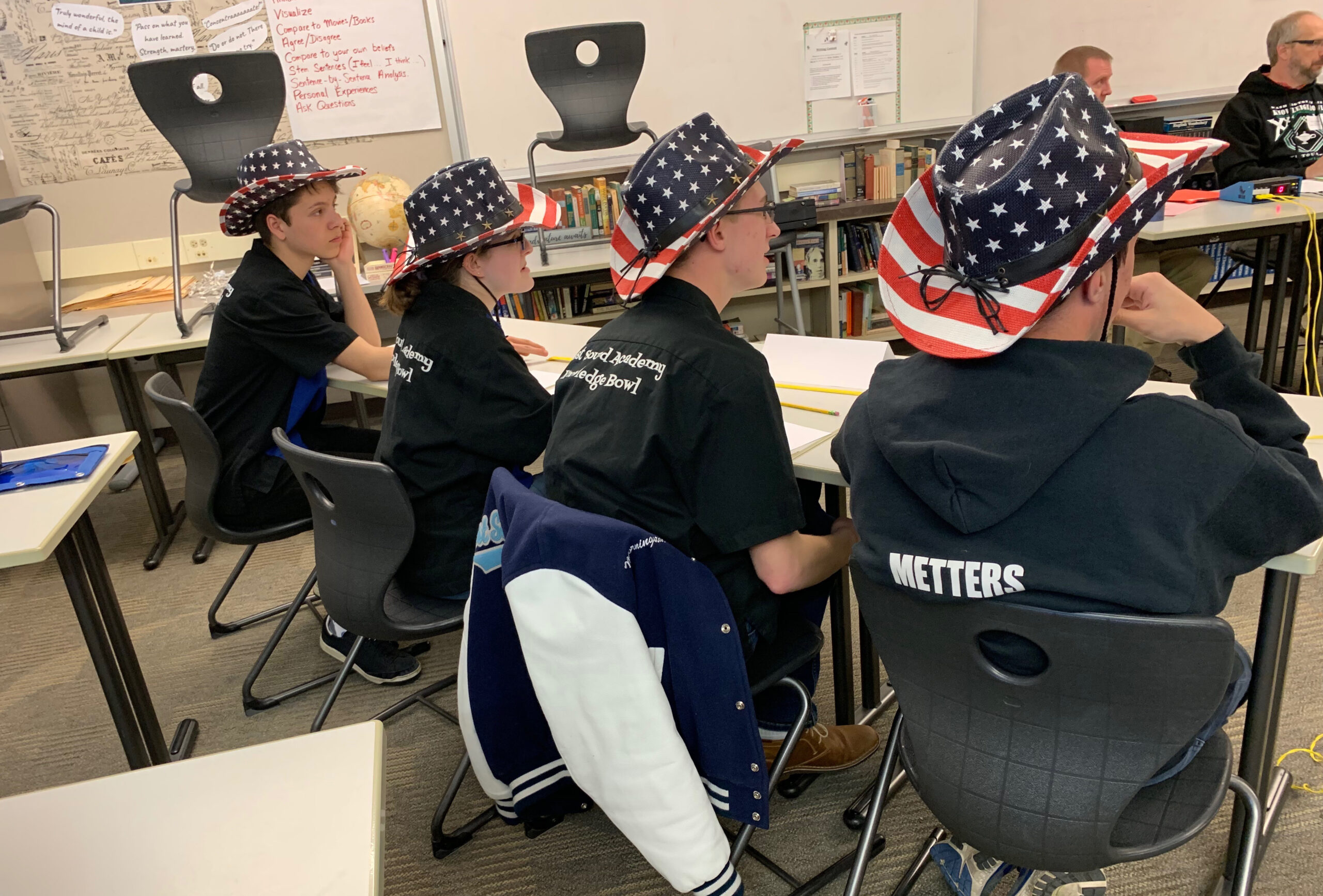 West Sound Academy's team of top academic competitors, aka Manifest Westiny, won 2nd Place in Division 1B at the Washington State Tournament XXXVII at West Valley High School in Yakima on March 23, 2019. WSA's squad joined 95 other teams from public, private and parochial schools from all over the state at the event, competing for honors and trophies in the six divisions: 4A, 3A, 2A, 1A, 2B, and 1B. All of these teams earned the right to be at the annual tournament at their respective regional competitions sponsored by Washington's nine ESDs (Educational Service Districts.) WSA's squad won first place for Division 1B, and the right to go to State, at the Olympic ESD 114 regional competition at Fort Worden on February 7.
WSA's State team, Manifest Westiny:
Nic Cachules, '21
Aidan Phelan, '20
Max Morningstar, '19, Captain
Max Metters, '20
Emily Bradford, '20
Emma Longworth-Slone, '21
The day of the tournament was a long one, beginning with check-in at West Valley High School at 7:30 a.m.  After an assembly, all teams began the first round of the morning, a 50-question multiple-choice test.  Then came four oral rounds, 50, short-answer questions in each, starting at 9:15 a.m. and ending around 12:30 p.m.  Only the top six Division 1B teams are allowed to go on to the Semi-Final and Championship rounds in the afternoon, so each round is important.  WSA finished the morning in fourth place, meaning they would face off against third-place Pope John Paul II High School in the Semi-Final round.
After five rounds, the team was ready for lunch. Then came the semi-final game with Pope John Paul II – a definitive win for WSA, 20 – 11. Now the winners of the semi-final matches were set off to compete for the 1st, 2nd, and 3rd place trophies: WSA, Valley Christian School from Spokane Valley and Riverside Christian School from Yakima.
Riverside Christian had a very strong team, and they came away with the win. The final scores were Riverside Christian 17 points, WSA 11, and Valley Christian 7. WSA coach Lionel Pummell was very happy with the final outcome. The team had the long drive back to Poulsbo to relax their brains after a day of 350 really hard questions. The trophy had a special place in the van: wedged between two seats, resting on a can of Pringles!
The State Knowledge Bowl State Tournament marks the end of the season, but lunchtime practices will continue through mid-May. Practices for the 2019-2020 WSA Knowledge Bowl team begin on Tuesday, September 3, 2019, and are open to students in Grades 9-12.
Congratulations goes to our WSA team for their strong showing at State and …
GO WSA!!!