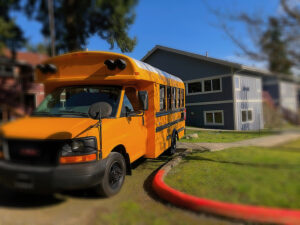 West Sound Academy is seeking a part-time School Bus Driver to transport students to school in the morning and back to Bainbridge Island in the afternoon. Drive our 20-passenger short bus with ease knowing that there are no shenanigans. The students are responsive, coachable, and excited to get to school with you! This position is a 10-month non-exempt hourly position with accrued personal/sick time of 1 hour per 40 hours worked. The school bus driving workday is a split schedule of 6:30 am to 8:30 am and 3:00 pm to 5:00 pm. Additional hours available for field trip driving, and depending on your skill set and comfort, help with our facilities work as well. The start date for this position is August 15, 2021 if you already have your School Bus Endorsement.  Training to earn the endorsement would be provided and take place during summer 2021.
Primary Responsibilities:
Drive a 20-passenger school bus between the school site in Poulsbo and the designated bus stops on Bainbridge Island on school days.

In the morning, drive from the school to the bus stops at Lynwood Center and the Kitsap Public Library and back to school.
In the afternoon, drive to the bus stop at Kitsap Public Library and return the bus to the school campus.

Additional duties may be assigned in facilities
Successful candidates will have:
A high school diploma and experience as a licensed driver
A current driver's license approved for class school bus vehicles with passenger endorsement. WSA will provide the licensing training required for the right candidate.
An appreciation for young people and the ability to build rapport with them
A background check is required through OESD 114 at the candidate's expense
Access to a cell phone for email, text and phone communication
The ideal candidate would be flexible, a team player, and willing to step in as needs arise.
West Sound Academy offers a competitive salary (range is $20 -$25 depending on experience and actual job assignment) and is an equal opportunity employer. To apply please email a letter of interest, resume and three references to hr@westsoundacademy.org.