Teachers work to answer the question: What does Commitment to Care mean at WSA?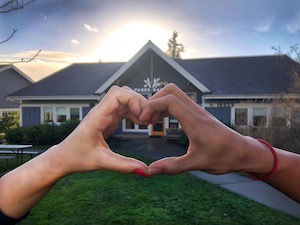 At the end of February, WSA staff and teachers engaged in a three-day in-service discussing Diversity, Equity and Inclusion (DEI).  One of the standards of excellence in education that the school upholds is its Commitment to Care as set by the Northwest Association of Independent Schools (NWAIS) which states:
"The school has created and continues to foster a program, culture and inclusive community of students, families, trustees, faculty and staff that embrace diverse perspectives, cultures, backgrounds and identities."
Demonstrating this standard is more than just celebrating Black History Month in February or Pride Month in June, or providing differentiation for neurodiversity in our student body, or making the school affordable for families from varied economic backgrounds.  To truly define what a diverse student body is at WSA and what the value of diversity is for our school requires a careful and intensive examination of why DEI is valuable and how it becomes an integral part of every aspect of the school.
What the staff and teachers discovered is that if we truly embrace the International Baccalaureate Learner Profile, we have a strong foundation that supports DEI at our core.  Part of our work during in-service was practicing making curricular plans while applying the DEI lens during the process.  Middle School teacher, Georgia Chehade commented, "What we found is that we are inspired creatively as teachers to approach topics or activities from fresh perspectives when we plan with all aspects of DEI as our lens."
An area of focus for the group was discussing race, and how do we, as teachers in a predominantly white demographic, teach about race with credibility, respect, and honor to traditionally marginalized groups.  While there is much more work to be done as part of our professional development in all aspects of DEI, teaching about race was one area identified as something to which we want to devote more professional development time and resources.
Another takeaway was the need for fostering a safe space for students of color and allies to discuss, celebrate, and share about their experiences in a Diversity Club, much like our Queer Straight Alliance Club.
Creating a statement and program for DEI is part of our continuing work this spring.  In starting to do that work, the staff and faculty realized that we need to acknowledge our progressive and liberal school culture.  We want to serve families from all perspectives better, while still challenging our community to value people with different backgrounds. All of us, students and teachers alike, are enlightened when exposed to a range of perspectives.
At the end of the in-service, the group felt empowered by our efforts and eager for more opportunities to continue to define what Commitment to Care means at West Sound Academy.